In this Research NXT Interview, Sweta Aggarwall, the Chief Marketing Officer at State Bank of India, takes us through her journey towards becoming a marketer. She shares her enriching experience while working for different industries with some of the key takeaways. She also talks about her current role in SBI and highlights focus on the enhancement of customer experience and simultaneous upskilling of her team to take the market hands-on.  
Key takeaways from this Research NXT interview:
Evolution of marketing technology in the last two decades; how marketers leveraged it to completely overhaul marketing as it's done in the present day.
SBI's YONO app, an integrated digital banking platform, is evolving as a financial planning tool moreover to just being a transactional interface.
SBI's mobile-first approach to boost customer experience! How marketing teams within the bank are joining forces to develop performance-based marketing metrics while customer-centricity remains the central point of all marketing activities.
Here are some extracts from the insightful conversation we had with Sweta.
Research NXT: So, you have worked across industries as a marketer, and now you are leading marketing at India's largest bank that is SBI. So, what has been your journey so far? What have you observed with respect to the shift in marketing technology, over your career stint?
Sweta: In my career spanning 15 years, I have worked across industries starting from marketing agencies to airlines, digital payments, and banking. My career took off with a marketing agency where I learned different facets of one-to-one marketing i.e., personalization. I realized how imperative it is for a marketer, with substantial data sets, to carry out customer segmentation for targeted campaigns.  Nowadays, with AI and Marketing Automation, creating customer clusters and cohorts have not only been simplified but have also led to the possibility of driving hyper-personalization and multi-level customization. This has helped in the further refining of the customer journey, achieving higher conversion and maximizing CLTVs.
Even though today, TV, print, OOH, etc. continue to play the mass medium reach, personalization and customer interactivity still hold high affinity. Direct Mailers like postcards, in-land letters, etc. of the pasts are presently digitized in the form of Email, Social Chats, and SMS marketing, while feedback and product reviews have been in-formalized with the advent of social media. Over the years, the evolution has been fast-paced from the world of Dotcom to search engines, online ticket booking, social networking, Google Maps, and to a whole new era of AI, ML, Chabot's, IOTs, Robots, etc. As a result, enhancing every stage of customer interaction and providing enriching customized experience with the help of evolving technologies. 
Research NXT: Yes, indeed. Things have leaped folded in terms of how things are evolved on the marketing technology front. If you could share some more details on your current role as the CMO of SBI, and what are the key projects that you are leading at this point?
Sweta: SBI, as an organization, has already embarked on its journey towards digital transformation, and my job is to carry the baton forward hereon. SBI has digitized most of its banking services for accessibility through a mobile-first approach. To that end, all aspects of marketing are transforming to become digitally advanced, making the core of all marketing activities, mostly performance-based and customer-centric.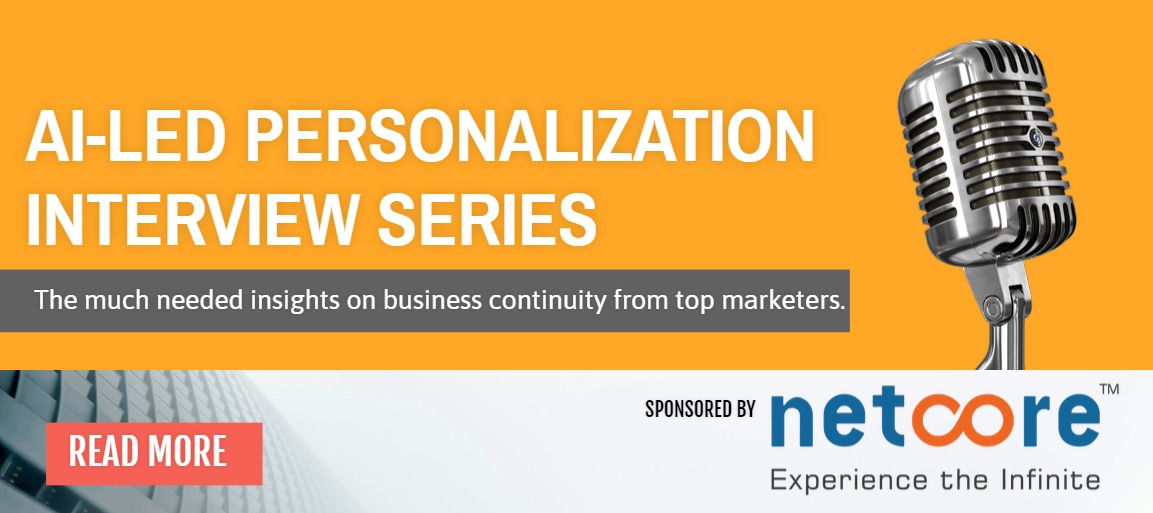 We believe in offering the right digital experience to the right audience through the right medium with the right tonality to meet our marketing objectives at SBI. 
Research NXT: SBI has the most extensive subscriber base accessing both offline and online channels, not only in India, I think across the globe. So, the customer persona would range from a rural man to urban youths to pensioners. How are you ensuring personalization at the scale? What kind of technology usage is going on, what kind of stack you have built up at your end?
Sweta: SBI has an established integrated digital banking platform, YONO, primarily meant for the youth. The platform offers convenience, simplicity, and quick access to a variety of financial and other transactional services. We gain customer insights through our campaigns, customer meets their interactions on the app, at branches, feedback captured at various customer touchpoints and how they transact with the bank, etc. We create omnichannel marketing campaigns substantiated by research-based findings, customer LTVs and behavioral patterns, current market trends, and feedback from business teams.
Research NXT: iProspect India has won the digital mandate for SBI recently. In a recent interview with economic times, you had mentioned, "We want to ride the digital wave and delight not just the existing but potential new customers as well. We would like to know how this will change the marketing at SBI?
Sweta: The digitally saturated market place poses a challenge of cutting through the clutter and connecting with the consumers which can be attained only by means of relevance, collaborations, and hyper-targeting. We want to enhance the customer journey whether it's existing or a potential new customer by providing excellent content and unique visual experience through all channels and mediums where they connect with the brand.  Hence, we believe in offering the right digital experience to the right audience through the right medium with the right tonality to meet our marketing objectives at SBI.
Introspecting the who, what, why, when, and how of marketing to build trust by being more empathetic brand towards the customers is the need of the hour.
Research NXT: SBI YONO is one of the most downloaded BFSI apps with 20Mn downloads across Google and Apple stores, how are you leveraging SBI YONO for cross-selling and upselling SBI products?
Sweta: The endeavor of the bank in launching YONO was giving customers a one-stop solution for all their banking and lifestyle needs. More than cross-selling, we wanted to increase engagement with our customers and enhance their banking experience. We have more than 100 partners, which gives our customers a chance to fulfill all their needs in one place with much better offers. Customers can also avail loans, buy other financial services products of our group companies. The app continues to evolve as we are also ensuring that YONO is adopted as a financial planning app more from just being a transactional interface.
More