In this Research NXT Interview, Rohit Srivastav, the Head of Growth at Netcore Solutions, talks about his observations on the evolution of online-first brands' digital journeys. He also mentions how this pandemic expediated the digital route for brands and the importance of maintaining the delicate balance between marketing science and art.
Key takeaways from this Research NXT interview:
How he had seen personalization capabilities evolve and transformed as of today.
How has Netcore been working with its customers to put some light in the darkness during the pandemic?
Why marketers have to realize and include even non-transactional aspects back into marketing?
Here are some extracts from the insightful conversation we had with Rohit.
Research NXT: You have been working with some of the leading solution providers in the Martech space; please share your journey and observations on how technology in marketing has evolved in India.
Rohit: In 2015, I was with WebEngage, and we had a food tech client, which was still a new concept in India. As a digital-first brand, when they launched, they wanted their website visitors to click on the targeted pop-ups, and back then, even targeted pop-ups were a breakthrough product. That means the bar was so low that even bland targeted pop-ups were acceptable. From then to now, i.e., dynamically changing every app screen, I think it has been a crazy journey depending upon how much of a micro-targeting or micro-stitched experience it has become. In perspective, website, app, push notification, email, any of these are; at the end of the day, only mediums and brands have always focused on enhancing the end consumer's experience with whatever tools or platforms are available. So, the philosophy has not changed since day one, so we keep on hearing personalized experience as a tactic for some time. 
Thus, personalization is more of a journey and not a destination. While the philosophy of enabling personalized experience has been the same, the strategies have taken various shapes, starting from targeted pop-ups to change the app screen and elements on the website dynamically. Hence, this has sort of been the journey for personalization and end-consumer experience for all online-first brands. This digital journey has been at a certain sophistication level only for them.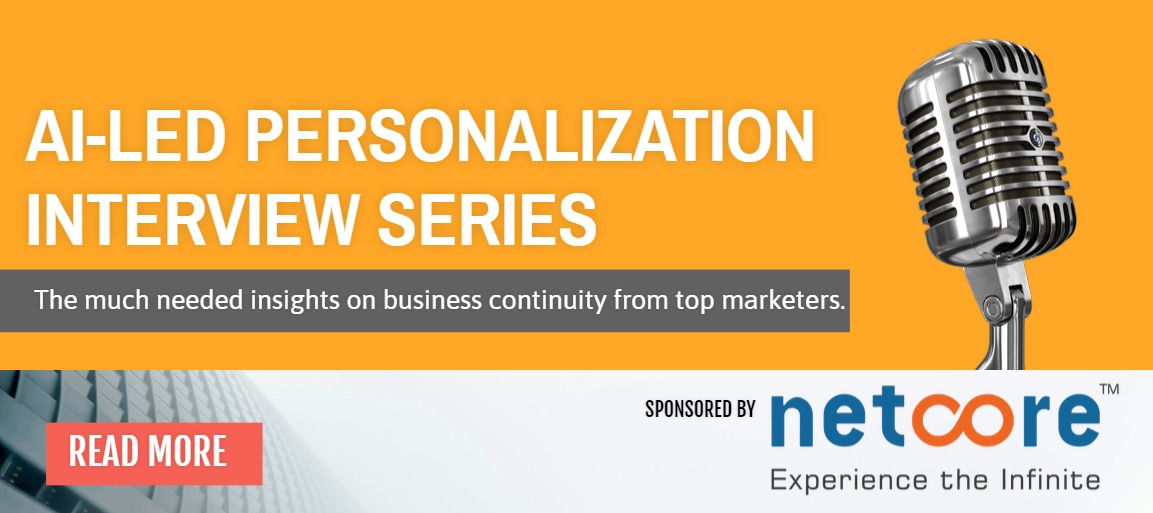 Personalization is more of a journey and not a destination. While the philosophy of enabling personalized experience has been the same, the strategies have taken various shapes.
Research NXT: As you mentioned, personalization has been there for a decade, and the definition has kept evolving. Please share some examples of personalization when you started your career and how it has transformed today?
Rohit: Sure. As mentioned earlier, the personalized pop-ups used to appear, and one of the breakthrough features that I saw being built was having dynamic tokens in the messages you show on the website. For example, back in the days, while making a website payment, the user could be shown a pop-up that said that by your IP, we know that you landed here from Mumbai and with this browser, etc. In those times, we could best target the pop-up and the web messages based on that. It then moved into using dynamic tokens into our web pop-ups, sending emails, and now that journey has become such that every click is used to determine the next click. Accordingly, the interface changes based on that previous action/click. That is the level of evolution that happened in the personalization journey from having using individual tokens. 
From personalizing just the name in emails 2013-14 until 2020, it has come a long way where every word in all communications and experiences is tailored only to the intended individual and not just someone like the individual. This kind of segmentation has finally been achieved on a personal level.
Research NXT: This is very true for the online-first companies that started with an e-commerce platform. But what about the traditional companies that now have shifted to the digital business model? Was the journey the same for them?
Rohit: The way I look at traditional companies is that they have survived the test of time because of having strong fundamentals. And while digital might not come naturally to them, but the real deal is, they have always been customer-centric. And that is why they have seen decades of metamorphosis and evolution into what they have become. In the tech revolution, maybe they were not at the forefront. But they saw that change that the consumer's default place has become online rather than offline. And hence that transformation. They were never opposed or apprehensive about adopting tech. Hence, I think all of the traditional brands, such as the jewelry segment, have started coming online and going the D2C route. All of these old-world brands like Marico or Wagh Bakri tea, founded in 1915 or so, have gone digital and, for example, if you search for buytea.com, it is owned by them. If they have come online and have such a strong supply chain around their brand, I don't think we can look at or undermine these traditional brands' digital-first efforts.
The one thing that tied all of the brands together in this crisis situation was the personal empathy and the personal touch they had about understanding the end-user situation.
Research NXT: In the current scenario, and as someone working very closely with these eCommerce brands, what are the top use cases that you've observed where personalization has impacted?
Rohit: 2020 did not come with a playbook, and it threw all the playbooks brands were using out of the window. I think, in the end, while working with my customer-facing teams at Netcore, I figured that all of these brands are trying to touch the lives of people, at least in a meaningful way. Because when the entire world is going through a pandemic, and everybody is under a crisis, I think empathy becomes the biggest cornerstone of all communication that you can have. If you side-line empathy at any level, it becomes detrimental to any communication that it might have. And that empathy became a pillar to all communication that went out across brands. 
I have seen examples of FinTech and finance brands, giving out yoga tips to customers; I have seen digital-first brands offering newspapers to customers. So, they pivoted the entire personalization strategy based on the users rather than just the connection or the transaction they had erstwhile with the brands. For example, if I am a ticketing platform, I know that people are not going out and are not buying tickets, but there has to be a brand connect in an empathetic way. What I can do is maybe I could promote whatever virtual concerts that people are voting for free on YouTube and other streaming platforms for free. Because it's not about buying the tickets now, it's about the connection of entertainment with that business. 
So they pivoted the branding based on the new world that they were pushed into. And a lot of the brands that I talked to were either capitalizing on the moment so for example; a famous OTT platform went heavy on figuring out what is the point of view and the kind of content that people like and then creating a personalized homepage based on every week's release. So based on analytics, they planned the weekly releases. This helped in such a crisis scenario, and then they went to personalize their offerings based on that. Different brands had very different approaches because, for some, the pandemic was a situation where their audience was more engaged, and for some, the connect was almost zero. So we served brands on both ends of the spectrum and utilized many strategies, which were very different. But I think the one thing that tied all of them together was the personal empathy and the personal touch they had about understanding the end-user situation. This level of personalization is more important than just using rules and tokens. Tech becomes a medium to achieve it, but I think the overall understanding of the brand and that theme was much more important than how it wasn't earlier. 
Marketers, in specific, have to realize that everything that is non-transactional and non-scalable as well needs to come back to marketing because marketing is not just science. It's a mix of art and science.
Research NXT: As a marketing technology provider to all these companies, what has changed for you during the pandemic? Considering how marketing was done before, how has it changed for Netcore now?
Rohit: So, at Netcore, serving the multitude of clients across the spectrum over the years, we had to understand their businesses, and I think there was no other option. There is an entire team that does it, and we have a very talented team of experts on the customer success team who have vertical wise insights. Now, these guys always knew what's going on and what works in that particular segment. For example, the OTT segment customer success team has worked with the top OTT brands in India. When a new OTT brand is onboarded, the team already has the playbook and knows exactly what is to implement and how to get the results that are the KPIs that we promised through the platform. It becomes a co-dependent relationship, and the brand always looks forward to what Netcore has to suggest in any situation. 
Again as an example, if a brand needs an uplift in retention metrics, they will come to Netcore and talk to their account experts and success managers about how to go about it. The success expert would then come up with a few campaigns, which will be approved by the brand, and we help them execute it. Similarly, when the crisis struck, they were naturally looking at us with a bit of expectation about how we could help them in this scenario because we were the trusted partners for them for so long. However, honestly, for some time, we also had no clue at all. So, we got on calls with all of our large accounts and accounts that were passionately involved with Netcore to understand how we can create a playbook for this particular time. We made notes, videos, created blogs, and finally, based on all the learnings, we released a best practice plan and shared the learning that we bought from different accounts and different brains working for different companies, which is an ideal world would not talk to each other. But we accumulated all those insights and created a playbook for the 2020 crisis. Netcore circulated it to all our customers and prospects, stating that it might assist in their strategy, and it helped put some light in the darkness.
Research NXT: My last question is on your perspective on the future? How do you see marketing is going to change for you and your customers? Though we are all talking about the new normal, I think we're not sure about what the new normal has for all of us. So what's your perspective on it?
Rohit: The easy answer to that is talking about the trend stagnation spans will increase, and digital will be the future. However, we all knew that digital would be the future. Maybe 2020 expedited it. I want to have that long term bias because I have no clue about the short term. I cannot create a label for the short term because the world is like changing so fast that I cannot predict what would happen in the next quarter or so. The long-term bias of mine is that marketing is doing a full circle; marketing is coming back. So with digitization taking the control, everything that could have been measured started being measured. That sort of threw everything that is non-scalable or non-measurable out of the window. And, when you throw all of it out of the window, what you are also throwing away are the emotions that the brand sort of invokes in customers. Everything measurable is technically a transaction. And when you have a transactional relationship, it doesn't matter how much your consumers will remember you in times when they don't need you. That is what 2020 brought with itself. Consumers now don't need brands as they are on a bare minimum, in survival mode. The only brands that they still recall are the other ones that they had an emotional connection with. 
Marketers, in specific, have to realize that everything that is non-transactional and non-scalable as well needs to come back to marketing because marketing is not just science. It's a mix of art and science. And we need to accept this truth and work on it. We need to work our way back into creating that emotional connection, putting the customer in focus, creating brands that people want to associate them with even in crisis times. If this world ever faces this kind of crisis or even if not, this is the long term view of marketing that I have, and it was materialized more by the 2020 crisis.