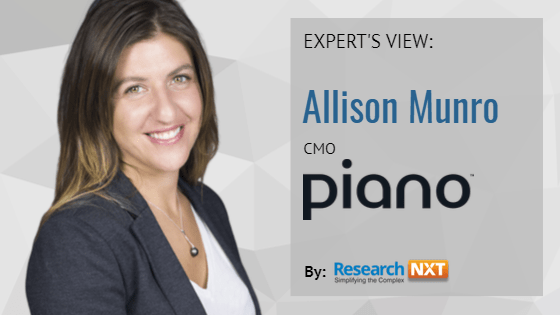 Allison Munro on Creating a B2B Content Marketing Engine that Converts
In this Research NXT Interview, the CMO of Piano Software, Allison Munro, talks about content consumption trends in the B2B SaaS sector and how marketers should approach the strategy around it. She emphasizes the importance of aligning tech, data, and creativity to optimize customer experience. Additionally, from an investment perspective in technology initiatives, Allison believes in tracking and measuring the impact of the efforts as that allows marketers to do more of what works.
Key takeaways from this Research NXT interview:
Marketing skills to ace up a one-to-many content strategy.
Importance of retaining the human element in marketing messages.
And, the edge marketers get with research-based content development.
What, according to you, are the most significant trends around content consumption in your industry?
Allison: In B2B SaaS, we're still working to create the right content to drive the right action, while always doing more with less. And that's no longer just at the discovery phase or top of the funnel. It also means creating content that engages all identified target audiences throughout the customer journey and increasingly across owned-and-operated channels. That begins by understanding exactly what your big idea means to different audiences and when the best time is to deliver it, then leveraging the right people, process, channels, and technology to drive an impactful strategy forward.
What are the new skills marketers in your industry will need to ace up going ahead into 2020?
Allison: In shifting to a customer-, audience- or user-first strategy, marketing needs to partner with sales, product, and customer success to better identify and understand their various audiences, anticipate their needs and understand how to connect in the right way, at the right time, in the right context and at scale.
Creating content experiences that convert requires a deep understanding of your audience, the customer journey, and the value exchange needed at every step. It also means planning for diversions in that journey. Whether that is as simple as creating unique continued experiences for your customers vs. your potential buyers, or building experiences for various personas or industries, knowing how to pair technology and data to drive a one-to-many content strategy will maximize engagement and results. In a digital world, creative, digital, operations, and revenue teams need to work together to optimize the customer experience at every touchpoint, with your audience and content at the core of engagement.
From a technology perspective, what are some of the top challenges that content marketers in your industry face these days?
Allison: To maximize resources and meet their revenue goals, content marketers need to understand the impact of what they're producing, and develop the right content to achieve the best results. For that to happen, they need technology solutions that will not only offer them the insights they need to see what's connecting and what's not, but that will also let them test their messaging for different audiences and segments, and customize their approach. 
But it's equally important that technology not get in the way of meeting those objectives. More than anything, prospects, and customers want to feel like an actual human being is approaching them. Whether you're sending an email or giving a demo or presentation, retaining that human element is more important than ever — both for the people you're approaching and in terms of achieving your ultimate goals.
How, according to you, should a CMO approach investment in content marketing with so many options around?
 Allison: I'm a true believer in measuring what matters — tracking direct impact such as conversion throughout the buyer's journey and beyond. But that's often easier said than done. To build on what they can measure, in order to do more of what works, CMOs need to make investments that focus on results.
It can't be about volume or frequency or measuring the number of press releases, events, digital content assets, or direct mail campaigns. Understanding the needs of your audience and the impact of your efforts should be the guiding light to driving your investments and scaling what works.
Now that we've reached the point where content marketing stacks have become the norm, how do marketing teams manage so many tools seamlessly and concentrate on the actual creative work of content marketing?
Allison: In theory, automation and insights enable marketers to do just that, focusing on creativity as technology scales and automates impact. The reality requires a mature content and marketing engine built on people, process, and technology. Understanding the impact of content can ensure some resources support the development of creative assets and experiences, while close alignment to the demand and customer success teams provides the feedback loop and measurement to guide creativity against performance.
Do you truly believe and see value in research-based content marketing as a winning strategy?
Allison: Theory backed by data and consumer insights is certainly more valuable than non-data backed content if your goal is to inform your audience better and help them be smarter about what they do. It also enables a level of credibility that can very well be unique to your value proposition.
You hear the terms "data-driven" and "data-backed" often — those require strategies that are informed by research, both into the industry as well as into audience needs and behaviors. When you know what your audience's needs are, you can develop content in all forms to educate, inspire, and inform.
Dedicated to creating measurable performance and optimizing the buyer's journey, CMO Allison Munro leads global marketing at Piano. She began her career as an entrepreneur, going on to build her own experiential marketing agency, providing technology-based experience solutions for CPG and entertainment brands. She continued to apply her skills and experiences as she transitioned to work directly with tech providers, with companies that included Oracle, Eloqua, and NexJ Systems. Bringing over 15 years of leadership experience to her role at Piano, nine of them spent leading go-to-market teams for cloud-based technology and service providers, she is now expanding Piano's marketing goals to support company efforts worldwide.
Piano is the digital content monetization and audience intelligence platform for the world's largest and most sophisticated media companies.  The company's award-winning, high-performance enterprise platform includes a subscription commerce engine (Piano VX), a customer experience toolkit (Piano Composer), a user management system (Piano ID), and an intelligent email personalization and content recommendations tool (Piano ESP) that serve as a comprehensive product suite for media businesses across digital platforms.