In this Research NXT Interview, Abhishek Joshi, Head of Marketing & Business Partnerships at MX Player, talks about his journey of 19+ years consistently in the media & entertainment space and the dominant emerging trends he visualizes for the online streaming space in the remaining 2020 and beyond.
Key takeaways from this Research NXT interview:
How personalization has significantly improved the MX Player brand loyalty and helped them in reducing user acquisition costs, enabled to increase the revenues, and improve ROI.
He also shares his three primary use cases for any app, i.e., onboarding, re-engagement, and new features rollout.
Finally, Abhishek shares his top observations for the online streaming space on the remaining half of this year.
Here are some extracts from the insightful conversation we had with Abhishek.
Research NXT: We would start by learning about your background and how you came to be the Head of Marketing & Business Partnerships at MX Player?
Abhishek: I didn't plan my journey as a marketeer, but when I finished my MBA school back in 2001, I landed up in a media print company (Ananda Bazaar Patrika Group) out of campus placements. I started in sales, like every other management trainee, where I used to sell newspapers (Circulation sales) at 4 am every morning in remote places of Jharkhand. So I started doing that and then advertising sales, then branding and strategy till 2011. However, one thing that has been constant in my 19 years of career is that I have always been in the media & entertainment space. I have done print, TV, sports, movies, digital, etc. The only couple of things that I haven't done is radio and gaming as yet, but apart from that, I've done almost every aspect of the media and entertainment ecosystem. 
Prior to MX Player, I was the head of Marketing, Analytics, Subscription, and Licensing for the digital business(Sony LIV) digital business of Sony Pictures to MX Player. My role here is everything related to the growth of the brand and the platform and to make MX Player the go-to destination for everything entertainment.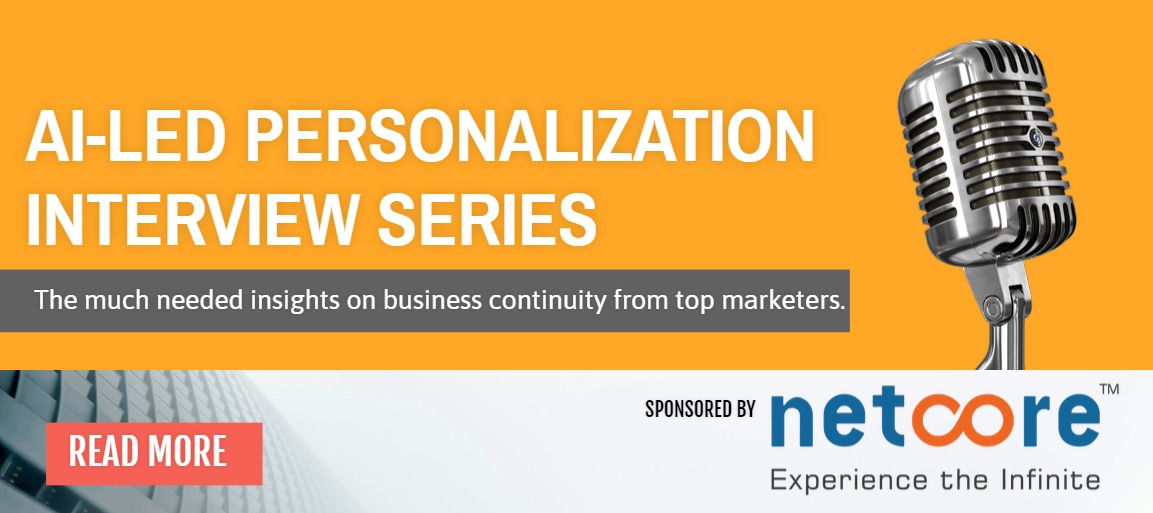 Technology is acting as a catalyst in exploring the power of personalization at MX Player. 
Research NXT: From a marketing standpoint, how important is personalization in the app and the OTT platform? We would like to know more about how you are leveraging technology at your current role in MX Player and how vital is personalization at the scale for your brand?
Abhishek: The journey of MX Player has been inspiring, to say the least over the last 18 months, since we launched in Feb'19 in India with the OTT streaming app. We have grown leaps and bounds, thanks to our users, who have shown immense trust and respect in the product and content offerings. Right now, as we speak, the OTT ecosystem is very highly competitive. So we are focusing on personalization to ensure customization of messaging and experiences to our audiences, based on their preferences and behavior. Personalization has significantly improved the MX Player brand loyalty, helped in reducing our user acquisition costs, enabled us to increase the revenues, and improve ROI.
Secondly, we have been adopting technology to capture information about the customer's needs and intentions through multiple sources to extend personalization at scale. For example, we are monitoring social media posts, comments, likes & dislikes, preferability of genres to automate, and render customization at scale. For us, technology right now is acting as a catalyst in exploring the power of personalization.
Research NXT: Are you using AI-led content recommendations for curating and creating the program content in your platform like a lot of global OTT players? If so, could you please shed some light around it?
Abhishek: Out of the many things, home page recommendation is something we care about extensively. A user is likely to spend most of their time on this page, and the maximum traffic tends to be generated here. Hence, it makes much sense to have personalized homepages for each of your users as it improves the relevance of the content, the suggested offering, which effectively results in better engagement. These recommendations are based on multiple user attributes, like their viewing history and engagement data. We also focus on genre-specific recommendations based on real-time reading and listening history.
The other thing that we do is create personalized watch lists or playlists, which can be customized by the users.  These kinds of personalization are based on a variety of factors, such as the kind of content they consume, the propensity to consume a particular genre, which could ultimately improve the CTR by a considerable margin.
Thirdly, we communicate with our userbase through personalized emails and personalized notifications for better customer experience.
As far as use cases are concerned, I think there are three primary use cases for any app. they are onboarding, re-engagement, and a new feature rollout.
Starting the Onboarding Process: While onboarding the first time users, a messaging campaign is created to introduce the new users to the app and educate them via notifications to try the app features for increased granularity. Secondly, there will be some user segments from specific niches who wouldn't be active after signing in. This segment needs to be targeted as well to push them a step ahead.
The re-engagement initiatives: This activity targets the dormant users, which can have various definitions based on the platform. These segments are the ideal candidate for AB tests, push notifications, and email outreach with personalized approaches for bringing them back to the platform. Once they are active again, it's time to analyze the segments and see triggers for conversions, and this analytical intelligence is essential in the long run.
The new feature rollout phase:  This phase involves segmenting the users who are on the older version of the app, use push notifications to coax them to upgrade the app and avail the advantages of that new features. Additionally, these users are also prompted to leave a review and rate the app on the Play Store or the App Store. We have also been focusing on onboarding offline viewers towards the online version and keeping them engaged with the video content as we now have music and games too on the app.
I believe that irrespective of the product, the way you communicate, and the way you address the user will almost be the same across all B2C business categories what we deliver to the user who requires that particular product should be the focus. As businesses, we need to be ensuring that we are speaking to the right audience in a manner that quickly communicates the message in an enticing way, either through offers or any other form of marketing tactic.
OTT advertising investment will significantly increase in 2020 as there is a surge with digital media content consumption by at least 2X in India.
Research NXT: I think, apart from the subscription-based revenue model, you also have a revenue model where you help advertisers target the right audiences through your platform. Now, could you please share more details on that and how you are assisting relevant ads to come to your subscriber base?
Abhishek: We are yet not an SVOD platform; we are a complete advertising lead platform. We help advertisers and brands leverage our massive data points in terms of segmentation and all audience inputs, which effectively helps them target better because doing it at scale ensures efficacy in execution.
Research NXT: You are working with many marketers from different brands. During the current pandemic situation, what kind of marketing innovations in terms of outreach to the end audiences are happening?
Abhishek: I wouldn't say, marketing, but much advertising is happening on digital, and that's the first piece. The second piece is that the advertising is happening through video on digital because the uptake of the digital video ecosystem has been substantial in the last six or seven weeks. And in the online streaming space, there are a few observations that I have or maybe trends, which I think will happen this year. They are:
One, everybody knows that content will grow faster and deeper.
Mobile will become the main channel for content delivery. That is going to happen very soon.
Increased content fragmentation will happen due to the competition.
OTT advertising investment will increase significantly this year. That's for sure because an average Indian spends about 5-6 hours consuming online content every day. Going forward, spending per month on digital media content is expected to grow by at least 2-3X.
With Covid-19 and the lockdown, the presumed growth that I had for this year has already become 2X of what was expected.
Video-based content is becoming the most preferred content type, I mean it's been more than 65% of the users, choosing it over text-based content.
And the same is evidenced in massive scales by platforms like MX Player or YouTube that they have achieved in the last year and a half. Combined with the demand for video first, vernacular content has also emerged as a key for the Indian consumer, which is going to be the driving force in terms of content delivery for this year.